Women across the globe have started reconnecting with their menstrual cycles and one way is celebrating hen their daughter has their first period, called a menarche'.  When there are so many opportunities to focus on the negative aspect of our natural fertility cycle, taking the time to celebrate the miracle and power of being a woman is important for your physical, emotional and spirit/soul level self.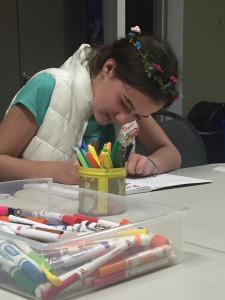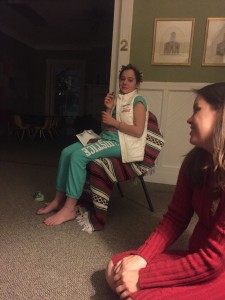 We recently created a bridging ceremony for our local red tent to welcome newly initiated women into the sisterhood. This is the program that we offer.
Red Ribbon Bridging Ceremony – Place a wide red ribbon on the ground.  We placed our's at the entry way into the ceremonial space.  (This can be done whether inside or outside.) Place everyone who has already begun menstruating inside the ceremonial space and the virgin girls outside the ceremonial space.
While the initiated is on the "virgin" side of the ribbon explain to her how, as a Goddess, she has 3 representations within herself.  Before her menarche her dominant presence was as the maiden. The Maiden is the young goddess from birth to menarche: learning, growing, striving, and searching. She is Persephone/Kore, and her spirit is also present in "virgin goddesses" such as Artemis/Diana or Athena. She is independent, willful, impulsive, vivacious, and aggressive. Connecting with the Maiden Goddess provides energy for undertaking a new venture, helps us assert our autonomy, and helps us summon resources and seek out what we need.
Next, I like to mention something about the sisters she has to lean on for support and ask questions.  To use her matriarchal tribe to learn, grow and experience both the "positive" and "negative" aspects of womanhood as a sisterhood.  After you have shared the sacredness your community with her, invite her to step over the red ribbon and into the sisterhood.
Finally, explain to her that now that she has started her menarche her dominant presence will be the mother until she no longer has anymore moon cycles.  The Mother is the goddess from menarche to menopause: governing, creating, nourishing, sustaining. She is Demeter, Hera, Gaia. Although her energy can be expressed through physically giving birth and raising children, the term "Mother" should not be taken so literally as to appear limiting. The Mother Goddess is woman (or man) at maturity, with the experience, energy, and inclination to undertake large-scale and long-term endeavors, to manage resources and relationships, to promote positive change in others.  This concludes our bridging ceremony.
We then invite our newest sister to sit on her throne and eat a chocolate bar while her elders create a crown of flowers on her head. We present her with a new journal and have all her new sisters write blessings in it for her while her mother paints her toes red.
I hope this has inspired you to create a special moment with your loved ones when they start menstruating.  We perform our ceremonies during our red tent temple gatherings, every sister who is at our tent is already menstruating and we already journal at every gathering.   Our ceremony has been created to fit within an already established sacred time together.  You may need to alter slightly if there are other girls there for the ceremony who have not experienced their moon time yet. Use your own fertile energy and get creative with what resonates with you and fits the personality of the newest sister.